The International Bunka Karate-Do Federation and Asian Martial Arts was created by Martial Art enthusiasts of different skill levels, disciplines, Ryū and nationalities, some of whom come from the Karate Geneva KOKORO-DO KAN Shitō Ryū association, which has members of 27 nationalities.
It is supervised and animated by highly competent teachers, under the authority of high grads with a plural and varied martial background,
but also trained, among other disciplines, in Judo, Aikkido, and fervent practitioners of TAI CHI for many years. Having a martial experience of more than, or close to, 6 decades, they display skills and expertise attested by various official bodies, such as national delegated general sports federations, or continental and worldwide, the World Karate Federation (WKF), and traditional worldwide Ryū bodies, within which, after having been competitors, they have held multiple technical functions.
They have, over time, both received instruction from qualified, confirmed, notorious Western teachers and have also trained in both form and substance, or even continue to do so, with undisputed Chinese, Okinawan and Japanese Asian masters, now extinct or still authoritative and worth reference.
It is thus in full knowledge of multiple aspects of the Martial Arts, strong of their long recognized experience, and after having become aware of a certain reality of the current exercise of Karate above all sporting and of certain Chinese Arts too often considered, in the air of time, like pleasant gymnastics of leisure, and of what the Sino-Kinawan and Japanese traditions well interpreted and the "DO" can offer, that they chose to associate their ordinary practice with the essential CULTURAL component "BUNKA", essential and inherent added value to the so-called Asian Martial Arts of the Far East, without which these last ones lose all specificity and existing values and all richness to be discovered.
Le Comité Directeur IBKAF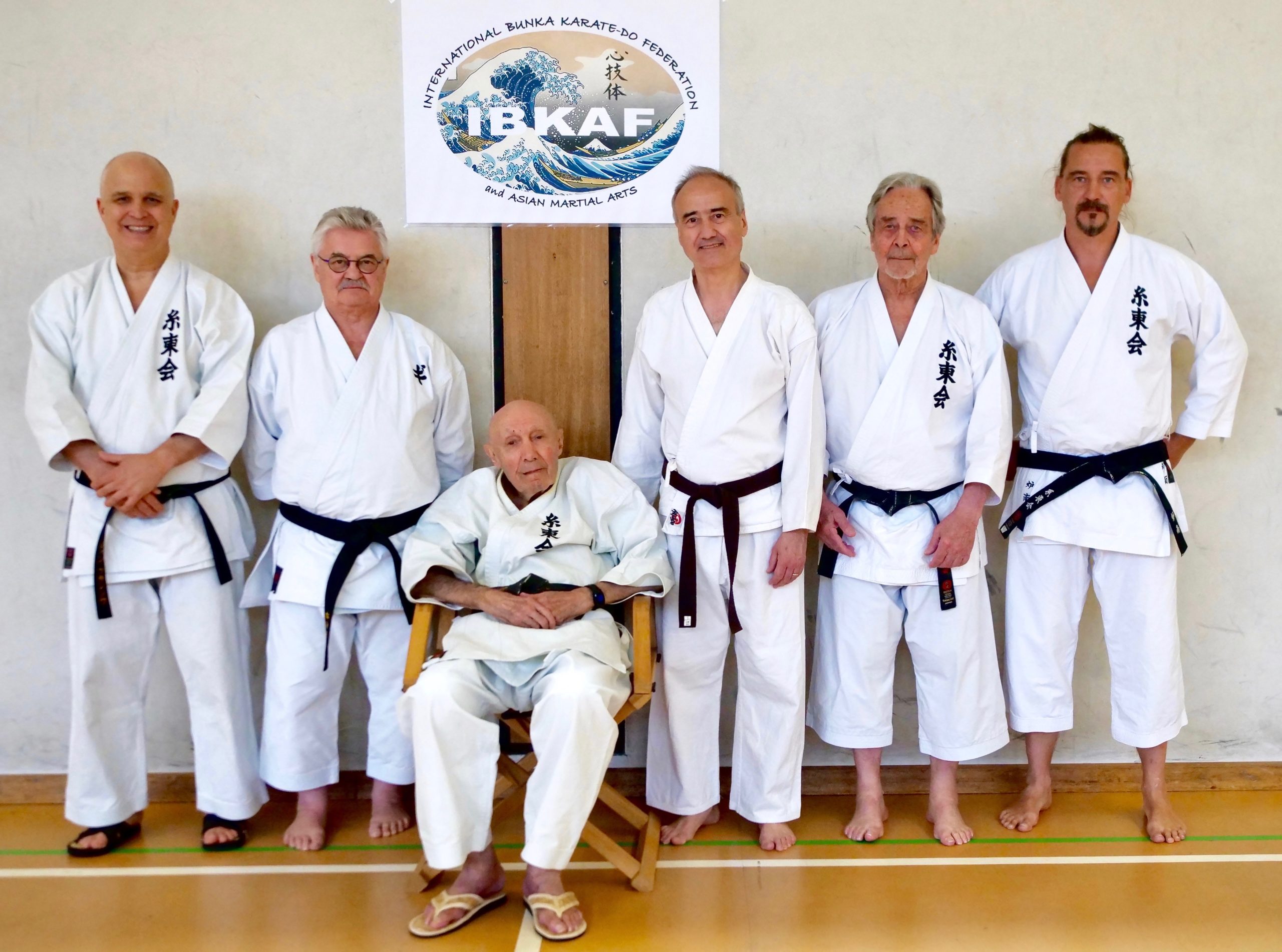 Jean-François BISCHOFF,  Guy BIGOT, Georges ABRAHAM, Olivier DUPONT,  Pierre SIBILLE, Ronan LE DU
Président: Olivier DUPONT
Vice-Président: Guy BIGOT
Conseiller Culturel: Jean-François BISCHOFF
Président d'honneur: George ABRAHAM
Secrétaire Général: Pierre SIBILLE
Trésorier et Secrétaire Adjoint: Ronan LE DU
Tous sont qualifiés en Arts Martiaux et sont porteurs de grades supérieurs en Karate-Do